Better Than Ever: Flum Pebble Disposable
September 30, 2022
Flum Pebble Rechargeable Diposable, one of the most popular e-cigarette products in the current market, has been officially launched at vape stores. The Flum brand line does not have many products, but without exception, they are all very popular with vapers. The more well-known ones are the Flum GIO 3000 Puffs Disposable, the Flum Float 3000 Puffs Disposable, and the newly released Flum MI 800 Puffs Disposable. So today, I will focus on introducing Flum's most popular product, Flum Pebble.
The shape and design of the Flum Pebble disposable vape pen are simpler than ordinary disposable cigarettes. The shape is a very cute square, and the four corners are not sharp corners, which makes it feel softer and more comfortable when you hold it in your hand. There is only one color in the whole body, but the brand, model and flavor are printed in white font on the front. Of course, I'm sure you'll fall in love with the Flum Pebble the first time you see it, after all, it's hard not to fall in love with such a vibrant color and cute design.
The Flum Pebble can deliver up to 6000 puffs despite its very small size. 14ml of 5% nicotine salt content e-liquid has a variety of rich flavors: Spearmint, Strawberry Coconut, Luscious Watermelon and Berrymelon Icy, etc., are all uniquely configured flavors of the Flum brand. More capacity, stronger performance, come and experience the smooth steam and delicious taste of Flum Pebble with us.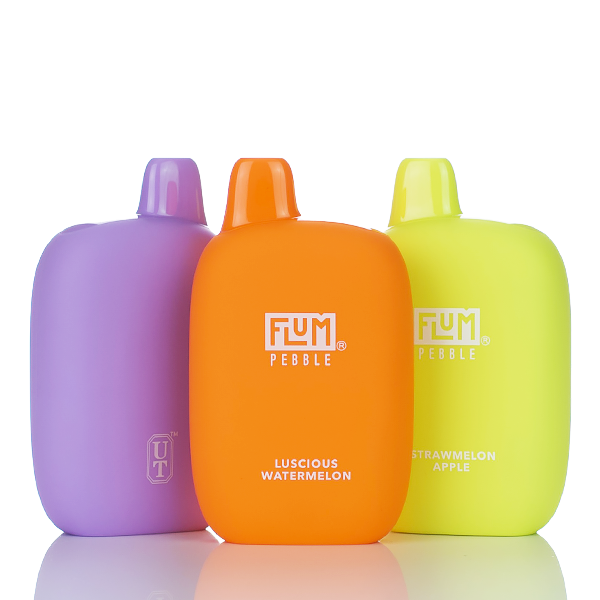 Specifications:
Brand: Flum
Puff Count: 6000 Puffs
Nicotine Strength: 50mg
Nicotine Type: Tobacco Free
Capacity: 14ml
Features:
14mL Prefilled E-Liquid Capacity
Integrated 600mAh Battery
Approximately 6000 Puffs
5% Nicotine Concentration
Type-C USB Port
Mesh Heating Element
Recommended Products:
elf bars vapes Georgia
xc5000 California
Read More Related Articles: https://eleafvape.uk/awesome-device-vibez-air-nft-disposable/