Moving Forward: Aspire Gotek X Kit
December 1, 2022
It's been a long time since I saw aspire active in the vape shop. In fact, aspire has been quiet for a while. Maybe it's reflecting on the defects of previous products, maybe it's preparing a new series of products wholeheartedly. In short, I am very happy to meet this brand new aspire. It can be seen that both the appearance and function have been upgraded in design and technology, which is also a good preparation for this comeback.
One of the newly launched Aspire series is called Gotek X, which is a pod kit shaped like a matchbox, small and compact but very delicate. The whole body is almost made of transparent material, you can see the accessories and structure inside the device very clearly, and the color difference between each device is very small, which is the only thing I think is a pity. But it doesn't affect your choice, because the translucent design looks great no matter what color it is paired with.
The more innovative technology of Aspire Gotek X this time lies in the ASP chipset. These structures can effectively prevent overcharging and short circuit problems, so that you no longer have to worry about the safety of e-cigs. At the same time, thanks to its small size and thoughtful lanyard design, you can wear it on your bag or around your neck when you go out, not only to prevent loss, but also to use it as a daily accessory. The output power range of Gotek X is 10-13W, which is very suitable for MTL Vape. Of course, if you also like RDTL Vape, it is also a good choice.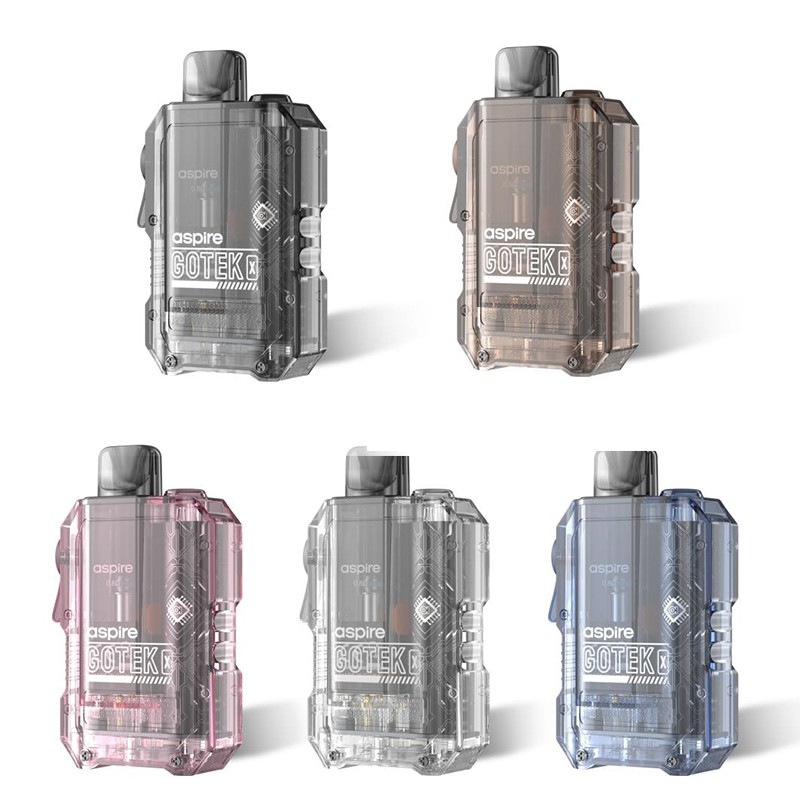 Specifications:
Pod Capacity: 4.5ml
Coil: 0.8ohm Mesh coil
Battery: 650mAh
Activation: Auto-draw
Airflow: Adjustable Bottom Airflow
Charging Port: Type-C
Features:
Multiple Protection Features
Aspire Pod Kit
Side Filling
Built-In 650mAh Battery
Multiple Protection Features
MTL & RDTL Vaping
Recommended Products:
luxe x vaporesso
galex nano kit
Read More Related Articles: https://eleafvape.uk/replaceable-cartridge-r-and-m-sunax-vape/