Once Try, Forever Eteno: Geekvape E100 Kit
October 18, 2022
There are tons of pod mod kits to choose from online vape shop these days, but you have to be careful because there are so many devices and styles that you're bound to get picky. When choosing the most suitable pod mod kits, everyone will have certain concerns, such as appearance and function, which is the first consideration, and how to judge which is more suitable for you between high-power and low-power electronic cigarette equipment. So it is recommended that you do enough preparation before buying.
The new products released by Geekvape this time are relatively popular. Of course, Geekvape, as one of the most watched e-cigarette brands, will attract the attention of many outsiders every time a new product is released. Geekvape E100 has a modern and mechanized shape, you can see the future world directly from this device. Over the past few years, such designs have become more and more favored by various brands, not only because of the popularity of the public, but also because this futuristic style has gradually become a trend.
The Geekvape E100 Kit, also known as the Geekvape Aegis Eteno Kit, has a very hard and durable base. This special zinc alloy material can resist a certain degree of bumping and beating. In addition, the Geekvape E100 can also withstand the invasion of dust and moisture, and the IP68 rating even allows you to take it out on adventures. The battery is 18650, which is a very convenient way of powering many people, and once you try it, you will fall in love with it.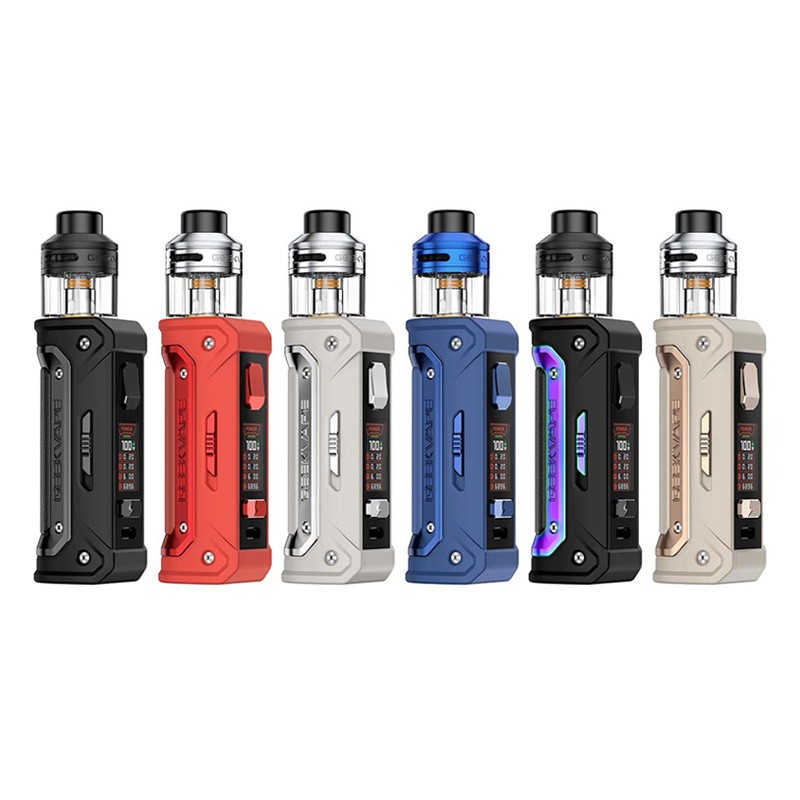 Specifications:
Battery: 18650
Pod Capacity: 4.5mL
Wattage Range: 5-100W
Resistance Range: 0.1-3.0ohm
Charging: Type-C Port
Features:
1.08″ LED Display
Intuitive Firing Button
A-Lock Firing Safeguard
Magnetic Pod Connection
Two Adjustment Buttons
Press Fit Coil Installation
Short-Circuit Protection
Recommended Products:
geekvape e100 pod cartridge
hyde edge
Read More Related Articles: https://eleafvape.uk/put-wildness-in-pocket-dovpo-venus-nano/