Rich And Colorful Flavors: Snowwolf Ease Disposable
December 7, 2022
This is Snowwolf's best disposable nicotine vape with the most mouths so far. A variety of classic fruit flavors will put you in many scenes and you can't stop. Many offline stores and websites do not have this product yet, and although it is very popular, it is rarely in stock. If you are interested, you can pay more attention to the latest arrival of the product. After all, it is an exciting thing to receive and use a great product in the first place.
Maybe you've seen the Snowwolf Ease poster somewhere in vape store. This is a disposable in the most popular shape of a drinking glass, and it does not have a very fresh and sweet color. With black as the background, the only parts that echo each other are the bottom of the cup, the lid of the cup, habits and the product name on the cup. This kind of design makes the whole device rich in content, but it will not be covered by too many color elements, thus dimming the light of the whole product.
Snowwolf Ease Vape is also very convenient to use, just like its shape, you can hold it in your hand and use it as a miniature drinking cup. The mesh coil will atomize the delicious e-liquid into a large amount of more delicious smoke, allowing you to immerse yourself in the fruity sweetness that Snowwolf brings to you. The battery and vape juice are both pre-charged and filled, you just need to unpack and enjoy.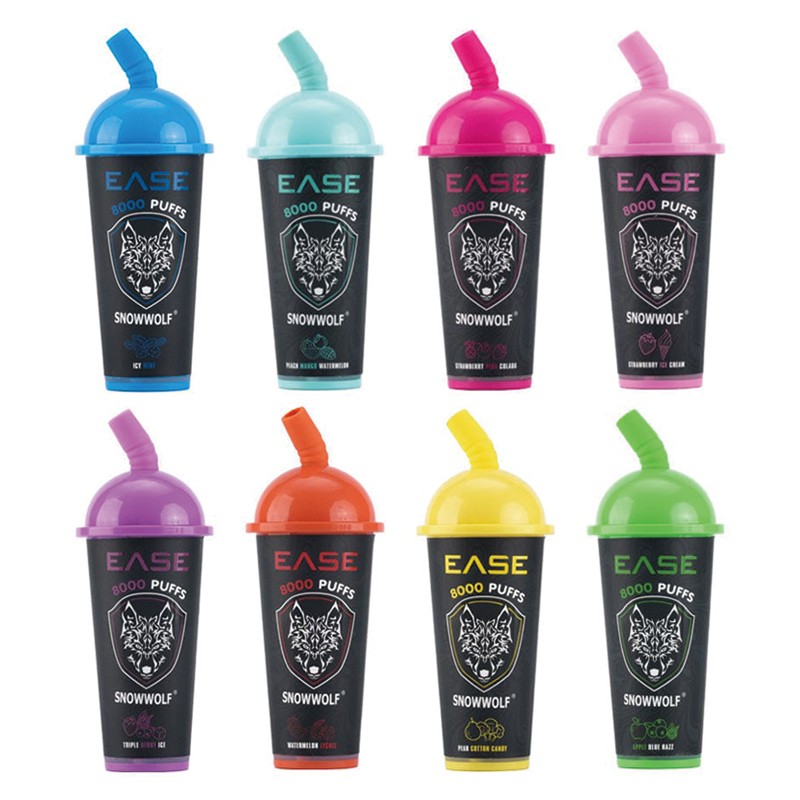 Specifications:
Dimensions: 40*108mm
Battery Capacity: 650mAh
Puffs: Max 8000 Puffs
Nicotine: 50mg
Power Output: 11W
Coil Resistance: 1.0ohm
Charging: USB Type-C
Features:
USB Type-C Charging Port
Airflow Not Adjustable
18mL Pre-Filled Vape Juice Capacity
11W MAX Wattage Output
Cup-Shaped For A Fascinating Appearance
650mAh Rechargeable Battery
Recommended Products:
voopoo drag 4 kit
uwell whirl s2
Read More Related Articles: https://www.bestvaping.ca/more-than-charisma-smok-prisma-pod-kit/