You Will Be Impressed By Tugpod EVO Disposable Vape Kit
August 23, 2022
The Tugpod EVO Disposable Vape Kit has received a lot of praise on online vape shop as soon as it was released. This disposable cigarette is slowly becoming a leading product in the industry with unstoppable momentum. If it's the hottest disposable vape kit this summer, the Tugpod EVO must have a name!
Tugpod EVO Disposable Vape continues the consistent gradient color design, and the two colors can be seen to represent a taste, which is more visually intuitive. The color matching is very harmonious, and the taste matching is also in line with popular preferences. In addition, the shape of the product is also ergonomically designed, especially the part of the cigarette holder, which can perfectly fit your mouth shape, so that you will not feel fatigued in your mouth while enjoying smoking.
The Tugpod EVO Disposable Vapes delivers up to 4,500 puffs, and the pre-filled 10ml e-juice with 5% nicotine salts will satisfy nicotine salt lovers. In terms of performance, capacity and number of puffs, the Tugpod EVO will leave a strong impression on your vaping life.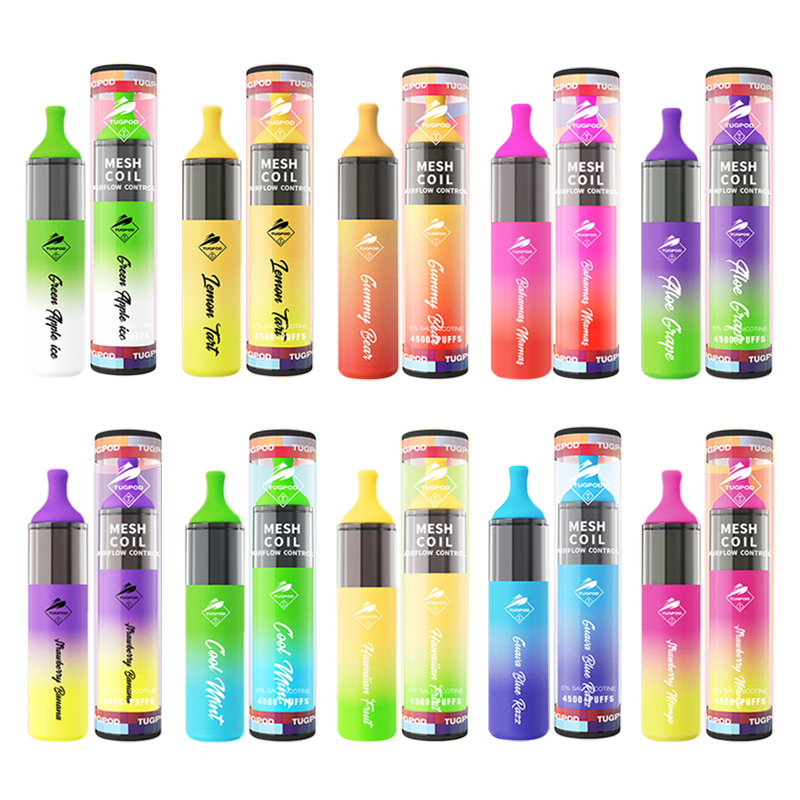 Specifications:
E-liquid contents: 10ml
Nicotine Level: 50mg
Puffs per Device: +4500
Coil: Mesh Coil
Adjustable Airflow
Battery: 850mAh, non-rechargeable
Flavors: Red Energy, Aloe Grape, Green Apple Ice, Strawberry Mango, Mango Melon, Lemon Tart, Banana Ice, Black Mamba, Guava Blue Razz, Gummy Bear, Cool Mint, Watermelon Bubblegum, Purple Rain, Lush Ice
Tugpod EVO Features:
Pre-charged
10 mL per e-cigarette
5% nicotine by weight
Pre-filled
Approximately 4500 puffs per device
Made with salt nicotine
Draw-activation firing mechanism
Made in China
Flavors:
Purple Rain: Raspberry, Blueberry, Lemon, Slush
Green Apple Ice: Green Apple, Menthol
Cool Mint: Spearmint
Aloe Grape: Aloe, Grape
Banana Ice: Banana, Menthol
Black Mamba: Mixed Berries, Passionfruit
Lush Ice: Watermelon, Menthol
Gummy Bear: Gummy Bear
Mango Melon: Mango, Melon
Red Energy: Energy Drink
Guava Blue Razz: Guava, Blue Raspberry
Watermelon Bubble Gum: Watermelon, Bubble Gum
Strawberry Mango: Strawberry, Mango
Lemon Tart: Lemon Tart
Recommended Products:
pachamama
i love salts
Read More Related Articles: https://eleafvape.uk/higher-levels-smok-rpm-25w-pod-system-kit/