The most fashionable disposable vape: RAZ TN9000
September 21, 2023
With the gradual prosperity of the electronic cigarette market, new products emerge in an endless stream, in this case, users can definitely love the advantages of products, such as RAZ TN9000, stylish appearance, excellent interactivity, and excellent product performance, which have made it one of the most concerned new products.
Next, I will review the RAZ TN9000 in all aspects, and feel its charm together.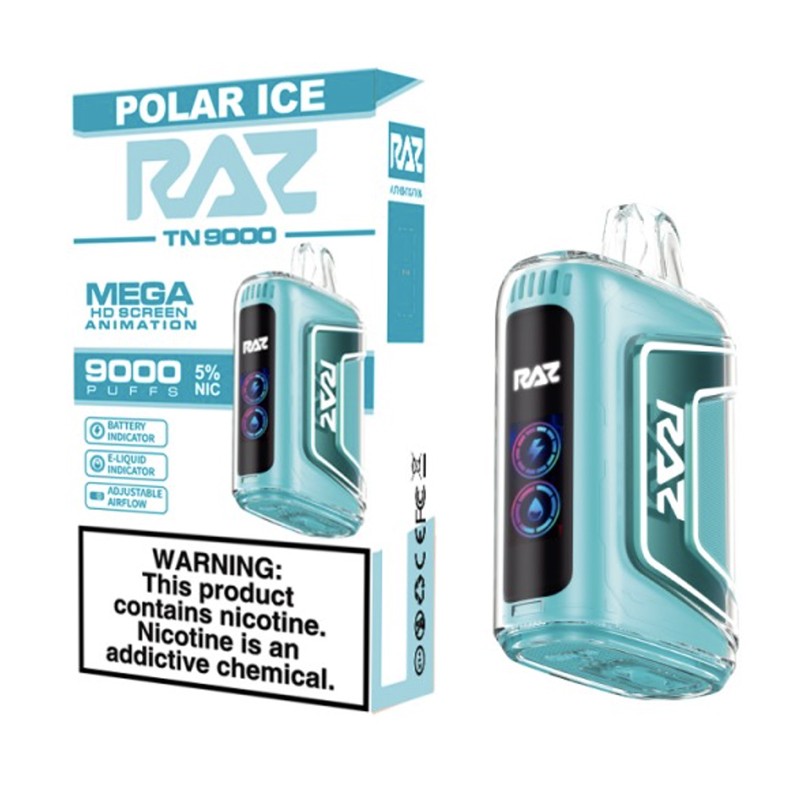 Technological sense of appearance design
As Geek Vape's disposable cigarette line, the RAZ TN9000 continues the metallic exterior design, with a transparent shell that weakens the lines of the product and makes it feel better to hold. Simple lines and logo printing make the RAZ TN9000 more fashionable overall.
An avant-garde interactive system
This is the most intelligent interactive system I've seen at disposable vape, with the Mega 0.96″ HD Display Screen enabling a series of graphic displays.
In addition to the most basic battery life and juice margin display, when charging or generating steam, there will be corresponding animation effects, a very cool interactive experience.
Perfect product performance
12ml Pre-Filled E-Liquid with a built-in 650mAh Rechargeable Battery can easily last 9000 puffs, ensuring a long-lasting e-cigarette experience. Whether you are on a weekend trip or on a busy day, the TN9000 is your most reliable companion.
Optimal flavor release
5%(50mg) Nicotine Strength combined with Mesh Coil blends the blended fruit flavor and nicotine perfectly, creating just the right throat. With up to 16 flavors, from fresh fruit to dessert drinks to 2023's favorite flavored with ice, there's always one to please.
Adjustable airflow
Although it is a disposable vape that can be easily handled, it is still designed with an adjustable airflow system and provides a customized experience. You can adjust yourself to find your favorite parameter.
Multiple security protection
The RAZ TN9000 is equipped with short circuit protection and overcharge protection to ensure that the battery life and safety are guaranteed while the device is operating normally.
In short, this disposable cigarette is perfect from the appearance and product performance, no matter how picky you are e-cigarette enthusiasts, I believe RAZ TN9000 will not let you down, it is the future of e-cigarettes and technology, worth a try.