Tugpod EVO Disposable Vape Kit Offers You A Promising Future
August 2, 2022
The Tugpod Evo Disposable Vape is a device that will grab your attention and now you can buy it at vape shop online. It's small and cylindrical in shape, and maintains a compact and maintenance-free design, the color of the casing is a gradient color, which is very eye-catching, I can guarantee that you will be immediately attracted to it when you see it at first sight, Without a doubt, this is a product that Tugpod has crafted with great care. Despite its small size, it is sure to amaze you with its super-powerful features, which come with an integrated 850mAh high-capacity, ultra-long-life battery and a 10ml juice capacity. The battery life of up to 4,500 vape vapes ensures that you don't have to worry about running out of equipment in any occasion.
Small yet powerful, the Tugpod Evo vape disposables is a device worth adding to your everyday vape arsenal. With mesh coils and airflow control, both to ensure you get the best performance and maximise flavour output, it really allows you to strike the right balance between flavour and vapour, maximising your vaping experience. A value-for-money device for novice and veteran vaping captains alike, this one from Tugpod Vape is just right for you.
In addition to this, there are a large selection of popular flavors that are very popular with users, providing a cloud that will satisfy you, allowing you to enjoy the most flavors, the most steam, and make the most of the performance. The Tugpod Evo Disposable offers you a promising future, with greater capacity and performance-boosting features that make every day a whole new experience.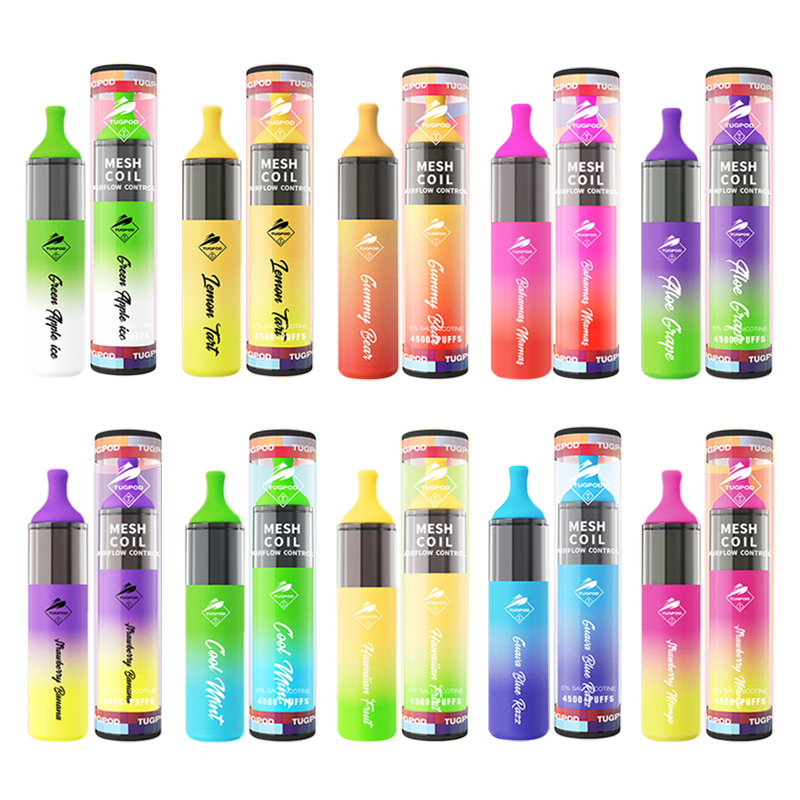 Specifications:
Puff Count: 4500 puffs
Milliliter: 10ML
Nicotine Strength: 50mg
Nicotine Type: Salt Nicotine
Features:
Disposable Design
Pre-Filled
Pre-Charged
Mesh Coil
5% or 50mg Salt Nicotine
4500 Puffs Per Device
Large E-Liquid Viewing Window
Airflow Control
4500 Puffs
10ML Vape Juice Capacity
Integrated 850mAh Battery
Tugpod EVO Flavors:
Aloe Grape: A blend of aloe vera and grapes to wake up your day
Banana Ice: Banana and Menthol Combination
Black Mamba: With a wonderful blend of berries and passion fruit, intense sweetness with a touch of freshness
Cool Mint: Cool, sweet and refreshing mint flavor
Green Apple Ice: Loads of delicious green apple flavor with a surprising amount of menthol
Guava Blue Razz: An extraordinary combination of exotic guava and blue raspberry with a unique tart and sweet taste
Gummy Bears Sweet and sugary gummy bears
Lemon Tart: A blend of lemon tart flavors that will get your cheeks fiery
Lush Ice: A mouthwatering duo of watermelon and iced menthol
Mango Melon: A tropical blend of cantaloupe and juicy mango
Purple Rain: Intense raspberry, blueberry sweetness and just the right amount of lemon for an irresistible fruity flavor
Red Energy: a drink-flavored vape that stimulates and relaxes your palate
Strawberry Mango: The perfect fusion of juicy strawberries and tropical mango
Watermelon Bubble Gum: Indulge in watermelon juice-flavored classic-flavored bubble gum
Recommended Products:
hotbox disposable
kado mark 3000
Read More Related Articles: http://eleafvape.uk/cbdfx-strawberry-milk-cbd-enrich-life/