How about Steam Crave Meson Pod Kit?
July 20, 2023
Low-key and down-to-earth brand Steam Crave each product has a good reputation. The recently launched new Meson Pod Kit 25W is also popular with e-cigarette enthusiasts. Next, I will evaluate this product in detail from three aspects: appearance design, equipment power, and self-regulation. I believe that after reading this article, you will want to try it immediately.
Bold and modern design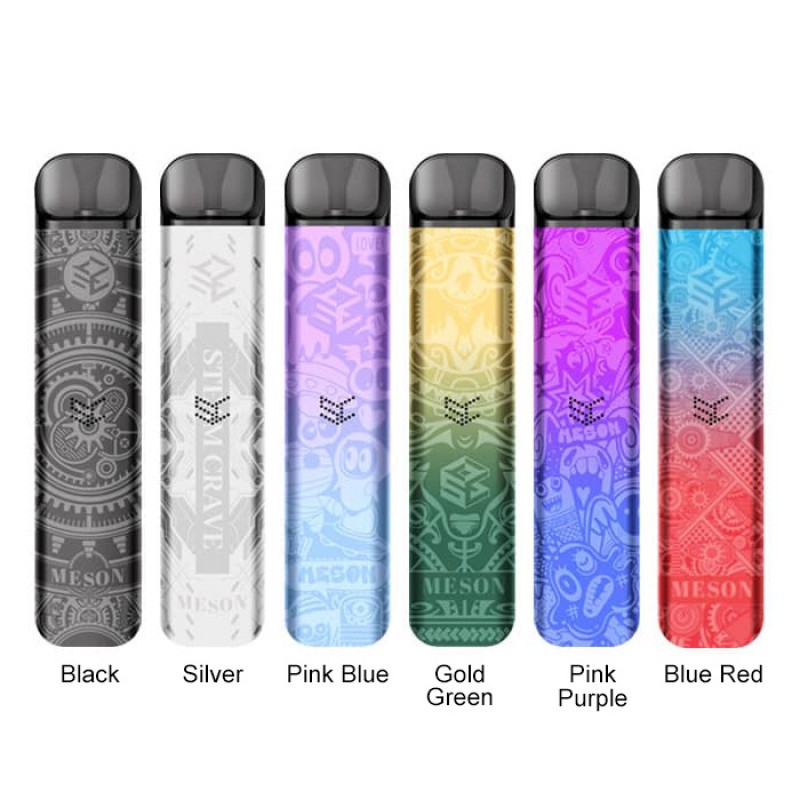 The look is stylish, with a total of six colors to choose from, ranging from understated Black and Silver to four more personalized color contrasting designs: Pink Purple, Pink Blue, Blue Red, and Gold Green.
Very carefully, the abstract pattern on the body surface of each color is different. Whether it is a regular totem style or a cute cartoon image, there is always one you like. The highly processed zinc alloy coating, with different effects as the light changes, is mysterious and attractive.
Powerful drive
It is hard to imagine that such a compact vape weighing only 49g has a 1000mAh battery built-in, a maximum output power of 25w, and supports MTL and RDL. You can at least enjoy it all day long. It is because of the powerful battery that it takes two hours to bring the device back to life, via the USB-C port at the bottom, which is very convenient.
Excellent autonomy
Airflow control on the back, tailored to you. You can experiment and find your favorite optimal vapor delivery. The three-color LED light displays the power situation at any time, and enjoy the process.
In addition to the 0.8ohm prefilled coil that comes with the pod, it can also be paired with three other Pod cartridges: 0.6ohm, 1.0ohm, and 1.2ohm. Side fill, enjoy your favorite liquid with ease and comfort.
Of course, in addition to the above three points, its price still has an advantage, at least I think the charm of tobacco is that you can customize it for yourself, from the taste, the size of the airflow, etc., you can explore your favorite mode. In the long run, it's cheaper to use than single-use cigarettes, so if you want to try something else, check out the extensive vape store.